Paul Dean
Guitarist and founding member of Canadian Rock band Loverboy, Paul Dean.
Paul takes some time out from touring with Loverboy, Journey and Pat Benatar, to chat about his early roots as a musician, his first bands and the music scene in the Prairies of Canada in the 70s, guitars, amps, the secrets to his success and more.
December 21, 2012
Guitarhoo!: Hello Paul how are you? Welcome to the site. To give everyone some history, where were born?
Paul Dean: Vancouver, BC, Canada, Feb 19, 1946.
G!: Was guitar the first instrument you picked up and when did you start playing guitar?
PD: I started playing a washtub bass when I was 12. Then a ukulele, a wind up plastic one I got for my 13th Christmas. You turned the crank, it played a song. It had frets in the proper places though, so it was a start. I figured out how to tune it, and learned Oh My Darling Clementine on it. The start of my 2 chord songs. Then I got my first guitar 2 months later, an acoustic with strings about a centimeter off the fretboard. I loved it, and needless to say, I missed the school bus that day. I had it until the end of the summer, when I had earned enough to buy my own electric. I smashed the acoustic playing badminton with it, but by that time I had my Harmony guitar and Silvertone amp.
G!: Did you take lessons or did you spend countless hours learning by ear from your hero's records?
PD: I took one lesson, and then the teacher died in a motorcycle accident. He was the only other guitarist close to where I lived, so I was left to my own devices.
G!: Which bands or guitarists influenced you the most as a guitar player early on?
PD: Duane Eddy, Luther Perkins, Hank Marvin, The Ventures, The Fireballs, Johnny and the Hurricanes.
G!: What was the first concert you had seen and what did it mean to you?
PD: The first concert my sister Pat was the piano player. They had a trumpet, a piano and the first electric guitar I had ever heard. It changed my life, I was dumbfounded, intrigued, and hooked for life. It was in the school gym.
G!: You had played in quite a few bands in Canada early on, much before Loverboy. Can you do a quick walk through for us of how these bands were formed and what kind of music you were playing with them at the time, and any memorable events from those times… Canada?
PD: We were a four piece – Hammond organ who was the lead singer, drummer who also sang some lead, bass and me. We started in Vancouver in '68, then lived in Calgary, Toronto, and Edmonton, starving for 3 years. We released one song on RCA Canada, "I La La Love You." It had a similar structure and chord progression as "Working for the Weekend." It sold 2 copies, I bought one of them.
Canada (the band) circa 1970 (Paul pictured on the left).
G!: Cannonball?
PD: The drummer from Canada and I were in the next band for a further 3 years. We started in Calgary, then played clubs in Winnipeg and Quebec. We had a hammond organ/harmonica/lead singer, an electric fiddle/lead singer, a drummer/lead singer, bass/backup singer, and 2 guitars. We changed our name to Scrubbaloe Caine, and recorded an album "Round One" -side one on Monday, side two on Tuesday, and mixed it on Wednesday.
Scrubbaloe Caine circa 1973. Paul pictured 3rd from the right.
Do I Love You?, Trouble and Daybreak by Scrubbaloe Caine from the album "Round One", with Paul on guitars.
G!: The Great Canadian River Race?
PD: After Scrubbaloe broke up, I joined the River Race because Matt Frenette was in the band. Wouldn't you?? We were together for 2 years in Edmonton. One early morning (or late night, depending on your point of view) Kenny Shields called me up, and said, "Hey, wanna make a band?" I swear, his exact words.
G!: Brutus?
PD: Yeah I read that article too, but it never happened. I auditioned for the band, or they auditioned for me, can't exactly remember that one, but Wally and I never worked together. That was right before I joined up with Matt. I was unemployed, uh sorry, "between engagements".
G!: How would you describe the local music scene in Calgary and the Prairies in Canada, in the early '70s?
PD: There were a lot of clubs and bars to play, it was a fun time. And you didn't need a record out to play all the big festivals, everybody played those regardless. "Canada" played so many festivals with 10,000 or more fans, I lost count.
G!: I suppose The Guess Who was the biggest band having success coming out of Western Canada at that time. Did you or most bands around that time look up to the Guess Who as inspiration and something to strive for?
PD: It never really dawned on me that I might hit the big time, not until I heard BTO. That's when Randy Bachman hit it, at least for me. Later I asked Robby Bachman if he wanted to play drums in Loverboy (Matt was still in Streetheart), but we couldn't get past the legal part. Even later I would try out for BTO as a replacement for Randy, but it wasn't happening.
G!: Around 1977, you met with singer Kenny Shields (an amazing vocalist) and formed Streetheart, how did you guys cross paths and did you have clear goals of what the band wanted to achieve?
PD: See above. We recorded one record together. In my view, we were gonna be the next Led Zeppelin.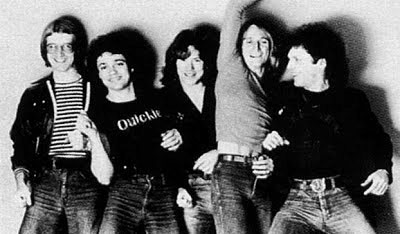 Streetheart circa 1978 (from left to right): Daryl Gutheil (keyboards), Matt Frenette (Drums),
Ken Sinnaeve (Bass), Kenny Shields (Vocals), Paul Dean (Guitar).
G!: In 1978 Streetheart released their debut album, "Meanwhile Back in Paris", the opening track "Action", still to this day is just wicked; a little mysterious sounding, a rocking drive and groove behind it, beautiful harmonies and a melodic twist in the solo section, combined with the energy and delivery from Kenny's vocals and insane lyrics binding it all together. How did the songs come together?
PD: The lyrics came from TV Guide, a bunch of random suggestions gleaned from movie titles. It was originally very complex musically, with a lot of changes. Then we tried stripping it down to 2 changes, (shades of Oh My Darling) and like they do in Reggae a lot. The light came on… why not, this is a valid chord progression. We kept the bridge/instrumental part from the original demo. Kenny's coolest idea was "Action, action, read all about it."
Action, from the album "Meanwhile Back in Paris" by Streetheart (featuring Paul Dean).
G!: Even though Streetheart officially formed in Saskatchewan, many Winnipeg'ers feel it was their hometown band (much like Queen City Kids later on and a few others). Did you find most of Streehearts early success was coming from Winnipeg, did it become your home base?
PD: We had some success in Winnipeg, but for my 2 years in the band, we were mostly in Toronto. The band moved to Winnipeg after I left.
G!: How well did Meanwhile Back in Paris do for the band?
PD: I have a gold album from Canada for it. 50,000 copies. I don't know if it went on to platinum status or beyond.
G!: Did you ever play through Garnet Amps (made in Winnipeg) at that time?
PD: I never did, but the designer helped mod my Fender Twin for more gain. Good question, I forgot about that.
G!: In 1979, yourself and drummer Matt Frenette, headed back to Calgary and met with singer Mike Reno (another amazing vocalist) to form Loverboy. Why did you not continue with Streetheart?
PD: I was fired from Streetheart. Then I met Mike, and Matt was actually the 4th drummer in Loverboy. He stayed with Streetheart when I left, and Mike and I talked him into joining us.
G!: How did you meet Mike Reno?
PD: Mike tells it differently, but I was working with Mike's old guitar player from a much earlier band. I was on bass. Then one night when we were rehearsing, Mike dropped by to see his old buddy, and they started jamming. I heard him sing, and asked him if he would like to try writing. We wrote Always On My Mind from the 1st album the next night.
G!: Before releasing Loverboys debut album, how many demo's did you write together and how did it lead to Loverboy being signed to a major label?
PD: We wrote a ton of songs. Mike was free and clear, but I had a commitment to Warners in Toronto, giving them first right of refusal. We recorded the worst songs we could think of, all out of tune, and the worst guitar tones you could imagine. It was a really bad deal I was signed to, and we wanted to start fresh. They exercised their right. We signed with Columbia.
G!: haha, smooth move. Did Loverboy play the bar scene together as a band at all before the original demo's were written and you were signed?
PD: No, we wrote and rehearsed for 2 years before our first show. Which was opening for Kiss. Not a bad debut! We had written all our 1st album and some of Get Lucky before we started playing live. It was tough, we wanted to get out there, but our managers convinced us to keep writing.
G!: Who came up with the name of the band, Loverboy?
PD: That would be me. On the desk I was working at were a bunch of my girlfriend's magazines. There was an ad for Covergirl makeup on the back of one. Coverboy came next, not a bad name for a band. You can figure out the rest.
G!: Loverboys debut and the band is excellent, a classic! You can really feel a band chemistry. Which songs came together quickly and which songs took some time?
PD: They were all pretty straight ahead. Mike and I were very dedicated, and we would try anything, in any order, cutting up songs, a verse from this, a chorus from that. The Kid is Hot Tonight was a complete song, even without the title chorus. It actually has 2 choruses now. A friend, Bernie Aubin who was the drummer in the band for a while, told me he had this title for a song. I "spliced" it into the tune, changed a couple of transition chords, and topped it off with "But where will he be tomorrow."
Loverboy's "Turn Me Loose" Official Video, from their debut album "Loverboy".
G!: Were there many demo songs written that never made the record?
PD: Albums and albums over the years. Stay tuned 😉
G!: With the follow up, "Get Lucky", you guys came out with more strong melodic riffs, and great memorable songwriting with "Working for the Weekend", and it blew things wide open, leading to Loveryboy winning 9 Juno awards. Looking back, what are some of the key elements do you feel led to the bands break through success?
PD: Songs, label, image, management, energy. Put them all together, and you get SLIME. OK, this is getting silly now.
Loverboy's "Working for the Weekend" Official Video.
G!: haha, Before headlining your own shows, Loverboy toured with giant acts like, Kiss, Cheap Trick, ZZ Top, Kansas, Def Leppard and others. How was the experience and what are some of your fondest memories from that time?
PD: You actually missed our biggest tour, with Journey in 1982. And here we are again, 30 years later. Nothings really changed, we still love to play for people.
My fondest memory is playing in Munich in the 80's. (Is that vague enough?) We played in a wooden velodrome, and the one and only time the whole crowd was chanting our name over and over. Pretty powerful stuff. And then playing in Japan, where the security was so tight inside the hall during the concert, the fans weren't allowed to leave their seats, it was all about respect and restraint. Then we're leaving after the show, and it's total pandemonium outside. Ah, that's better, just how we like it!
G!: Loverboy is still touring strong, what do you feel has given the band its longevity with music fans?
PD: Decent songs, high energy, positive "message", good players and crew.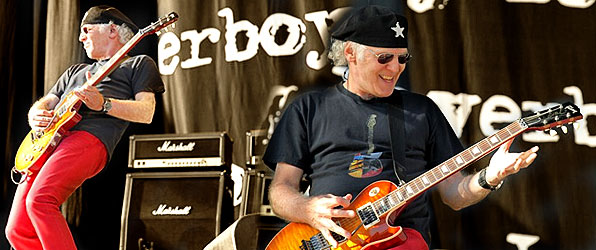 Paul performing live with Loverboy in 2012, on tour with Journey and Pat Benetar.
G!: You've always had a nice crunch but not overly distored guitar tone, which gelled with the songs perfectly. Which amps and guitar and any other gear do you use to achieve your sound?
PD: GHS Boomers 12,13,16,26,36,48. Gibson T500 pickups on all my guitars, Strats or Les Pauls. Marshall 900 50 watt – 4500. Four Marshall 1960 cabs, A&B. Sennheiser wireless. TC Electronics G-System. Dunlop 60 picks. The head's been modded, as have all my guitars. The biggest variable? Soldering the pickups to the 500K audio taper volume pots. If not done perfectly, you lose gain.
G!: Wicked! You released 3 solo records, which show a little heavier rock side, and you collaborated with Bryan Adams, Paul Stanley of Kiss, Ritchie Sambora of Bon Jovi and others. Do you have any plans to record and release more?
PD: There were really only 2 solo records, Hardcore and Machine. I just finished producing and mixing an album I played guitar on. It's Greg Godovitz's solo album. Greg is the voice and bass of Toronto's GODDO. It's a whole other side of me, I had a blast doing it. I finished it on the bus this summer, between gigs opening for Journey with Loverboy. Look for it soon. No further solo plans right now.
G!: Goddo is another great band. With the recording technology and online marketing available today, and its ease of use, do you feel there is too much quantity available for music listeners to sort through, if so, is it a good thing or does it devalue music as a whole?
PD: It's a great thing. There's a lot to sort through for sure, but you can also be lazy if you want to, and just look at iTunes and Youtube and Spotify every week. There's more new stuff than I can digest just doing that.
G!: What is your view of fans recording live shows with their cell phones and posting it on youtube etc.? Is it a cool sign of admiration towards the artists and also free promotion, or should those video only be released by the record labels etc.?
PD: What are you gonna do? That's how it is. As for me, a huge music fan, if something is crappy sound wise, and out of focus and so jerky you wouldn't know who it is playing, I just go on to the next one. No doubt I prefer the videos in at least stereo, not recorded mono on an iPhone. But sometimes that's all there is, and that's way better than nothing. I don't think of Youtube as promotion, because promotion's all about the future. I enjoy it in the moment.
G!: What are some of your hobbies and interests outside of music?
PD: Cycling. Digital photography. Swimming. Screenwriting.
G!: What are some bands or solo artists that excite you today?
PD: Gotta love Heart's new album Fanatic. Richie Sambora's Aftermath… Donald Fagen's Sunken Condos. Andy Timmons. Pink. Duane Eddy's Road Trip. Grace Potter. Derek Trucks.
G!: If there was one song from your career that is a highlight for you and you feel defines what you have always wanted to achieve as an artist/musician, which one would it be?
PD: Working for the Weekend, except we're working ON the weekend.
G!: Is there any advice you'd like to share with aspiring musicians?
PD: Playing music, especially guitar and singing, is the best job, except for me it's not a job, it's a life. This can be anything you want it to be. Practicing alone in your room. Then you play something for a friend. Turns out, she knows a bass player, who knows a drummer. The drummer's cousin knows the son of the biggest studio owner in town. You record a song, put it out on TuneCore, Neal Schon hears it, and books you on his solo tour as an opening act. You blow them away, American Idol asks you to guest on the big finale. You go on to headline around the world. Or you can just play in your room. It's all good.
G!: Paul, it's an honour, thanks for taking out the time for this! We all look forward to our future works!
Interview © 2012 Guitarhoo!
Paul on the web