Gus G.
Guitarist for Ozzy Osbourne, and heavy rockers Firewind, Gus has released over 8 albums with Firewind, has toured the world over with Ozzy Osbourne, has released several instructional DVD's and more. Here Gus chats with us about his early roots as a musician, touring with Ozzy, his favorite tracks by previous Ozzy guitarists and a lot more.
January 16, 2013
Guitarhoo!: Hello Gus, where are you from originally?
Gus G.: I'm from Thessaloniki, Greece
G!: When did you get interested in guitar and pick it up?
GG: That was at the age of 9 after I heard "Frampton Comes Alive" that my Dad was playing at home. His talkbox solos were what did it for me.
G!: What styles of music did you listen to and which musicians had the biggest influence on you as a musician?
GG: I listened to Rock and Metal from a young age. Like I said originally it was Peter Frampton and The Eagles, then it was Beatles & The Doors, then got into heavier stuff like Black Sabbath, Metallica, Iron Maiden, etc. Of course as I was growing up, I was into guitar more and more and started listening to guitar music as well, like Yngwie, Racer X, Satriani, etc.
G!: Did you take any formal lessons or did you learn by ear?
GG: I did both. I mean I went to a conservatory and learned theory, harmony, all my scales and modes, etc. But I also did a lot of personal searching, picked up all my favorite solos and songs by ear and practiced endless hours like that as well.
G!: What aspect of guitar playing gave you the most challenges back then and now?
GG: It was definitely the shredding techniques that were challenging back then and now as well. I'm always practicing to perfect my technique, speed picking, tapping, etc. But these days I'm also working harder than ever before on things like intonation, vibrato, improvising, etc. Guitar never ends haha!
G!: You've performed and recorded with quite a few metal bands but you've been with Firewind the longest. How and when did the formation of Firewind come about?
GG: The first idea started when I briefly attended Berklee College in Boston. I got together with some friends and recorded some demos and I named the project Firewind. It took me a long time to get the band going, cause originally it was just me and my 4-track haha! After I signed to Leviathan Records in 2000, the label helped me to put the band together for our debut "Between Heaven & Hell". But that came a bit later as well, in 2002.
G!: Since 2002 Firewind has released 8 albums, and they've all been very consistent; Heavy, fierce driven riff action, mixed with mellower acoustic and keyboard fusion'ish compositions. If you had to choose one song from the Firewind legacy to depict what Firewind stands for, to someone who has never heard of the band, which one would it be?
GG: Hard to say, because we have the very heavy stuff like "The Fire & The Fury", "I Am the Anger", "Into The Fire" and then we got the more commercial, rock stuff like "Mercenary Man", "Falling To Pieces". I think the song "World On Fire" sort of represents our both sides – the heavy side and the melodic side. So, there u have it I gave u 6 songs instead haha!
Firewind's official videos for "The Fire and the Fury" and "World of Fire" featuring Gus on guitars.
G!: Do you do most of the songwriting with Firewind, and do you ever find it challenging to invent new riff's in the heavy metal genre?
GG: Yeah I do most of it. Bob writes a bit as well, obviously the more keyboard driven stuff comes from him, but I do most of the writing and then I write stuff with Bob and Apollo. Well, after so many albums I always ask myself, what other elements are out there that we could incorporate in our sound and sound fresh. I think we achieved to re-fresh our sound on the last album 'Few Against Many'.
G!: How did you get the gig with Ozzy and how was the audition process?
GG: It was thru an email I got from his management. They asked me if I wanted to fly to LA and audition. So, I went down and I jammed with Ozzy and the band and all went great that day. They asked me on the spot to come back and do a gig with him couple of months later.
G!: When preparing to tour with Ozzy, were you required to learn only a certain number of songs, or expected to know the full catalog of the material?
GG: They asked me to learn 5-6 songs, but I went prepared. I learned more songs than I was asked, as you never know what they might ask you on the spot. Once I got the gig, we learned a lot more songs of course.
G!: On the Scream tour with Ozzy, does the band stick to a steady set list, or does Ozzy switch it up spontaneously now and then?
GG: There's a certain bunch of songs that he'll always do and then there's stuff that comes on and off from the set list.
G!: What are our fondest memories from touring with Ozzy?
GG: It's been an amazing ride so far! The whole tour was just incredible. Playing around the world in the biggest venues and headlining the biggest festivals, being a part of such a big production and playing with Ozzy, it's just mind blowing. We had great times on this tour, we really worked all as a team and I think we did some great gigs. Of course every moment you spend with Ozzy is precious. The stories, the advices, the jokes and of course all the gigs, it was just fantastic. Ozzy's an amazing person, it's hard not to love this guy.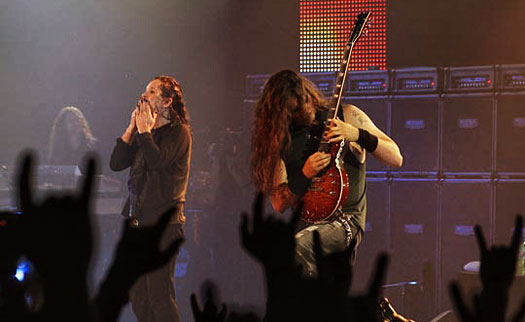 Gus live with Ozzy on the Scream World Tour
G!: What is your favorite Randy Rhoads song or solo (to perform or listen to)?
GG: I love most of all his stuff. Of course "I Don't Know" and "Crazy Train" and also "Over The Mountain", "S.A.T.O." and "Diary of a Madman" are all favourites.
G!: What is your favorite Jake E. Lee song?
GG: I really love "Bark at the Moon" and "Killer of Giants".
G!: What is your favorite Zakk Wylde song?
GG: Definitely "Miracle Man", "Bloodbath in Paradise", "Mama I'm coming Home" and "Perry Mason".
G!: What is your favorite Tony Iommi song?
GG: Anything from Sabbath's first 4 albums is just monumental. Can't pick out just a single track. But I'm a huge Iommi fan and I love all of his Sabbath records, with Dio, Glenn Hughes, Tony Martin and his solo stuff as well.
G!: What is your favorite song from the album "Scream"?
GG: I think I have 2 or 3 from this album. Let it Die, Let Me Hear You Scream, Life Wont Wait and Time are songs I really love.
Ozzy's official video for "Let it Die" featuring Gus on guitars.
G!: Which guitars and amps are you taking on the road with you?
GG: I take my ESP signature RS NT2 and NT3 mostly and with Ozzy I also take my EC "Rock Art" signature ESP's as well. Amp wise, I played the Blackstar series one 200 for the past 2 years, but now I have my own signature amp from Blackstar, the BLACKFIRE 200, so thats what I take out with me.
Gus with his ESP signature guitars and Blackstar "Blackfire 200" Signature Amp
G!: Are there any other musicians you'd like to collaborate with in the future?
GG: I'm always up for collaborating with great singers and writing tunes and I'll be doing that on my solo album which I'm working on right now.
G!: Do you have any advice you'd like to pass onto the new generation of young guitar players starting out?
GG: Practice hard, believe in yourself and remember that there's no shortcuts. you gotta pay your dues and do the hard work. Love what you do and everything is possible!
G!: Gus, thanks for taking the time for this. We all look forward to your future projects, cheers!
GG: Thanx a lot!!
Interview © 2013 Guitarhoo!

Gus on the web