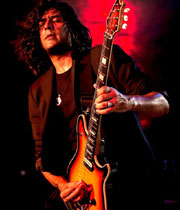 Gaurav Bali
Gaurav Bali is the lead guitarist for melodic hard rockers Eve To Adam.
Gaurav chats with us about recording with producer Elvis Baskette (Incubus and Alter Bridge) on Adam To Eve's latest album "Locked and Loaded", the message behind the song 'Immortal", the making of the bands music videos "Immortal" and "Straightjacket Supermodel", his roots as a musician, his guitars and amps of choice when recording and playing live, touring with Motley Crue and Creed, upcoming tours in 2014 and more.
---
Interview with guitarist Gaurav Bali of Eve To Adam
Gaurav Bali Videos
Eve To Adam "Immortal" Official Video
Eve To Adam "Straightjacket Supermodel" Official Video
Interview © 2014 Guitarhoo!
Gaurav on the web