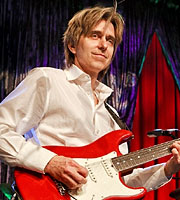 Eric Johnson
Grammy Award winning blues/rock guitarist and solo artist, Eric Johnson chats with us about his writing process and the making of his solo album "Bloom", explanation of the album artwork, his favorite tracks off the record, touring with Joe Satriani, highlights from his extensive career in music, jamming and a lot more.
From the Guitarhoo archives, originally from May 1st, 2006.
---
Interview with guitarist Eric Johnson
© 2006 Guitarhoo!
Eric on the web