Dragonforce, Circa Survive and Amoral
DragonForce, Circa Survive and Amoral attended a press conference for the Pulp Summer Slam XIII concert in Manila, Philippines.
The bands answered questions about their recent tours throughout Asia, their latest and forthcoming albums, their approach to guitar playing and much more.
---
© 2013 Guitarhoo!
Dragonforce
– Herman Li : guitar
– Sam Totman : guitar
– Marc Hudson : lead vocals
– Frederic Leclercq : bass
– Vadim Pruzhanov : keyboards, keytar, synthesizer
– Dave Mackintosh : drums
Dragonforce on the web
Circa Survive
– Anthony Green : vocals
– Brendan Ekstrom : guitar
– Colin Frangicetto : guitar
– Nick Beard : bass
– Steve Clifford : drums
Circa Survive on the web
Amoral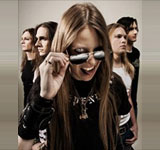 – Ben Varon : guitar
– Ari Koivunen : vocals
– Masi Hukari : guitar
– Pekka Johansson : bass
– Juhana Karlsson : drums
Amoral on the web