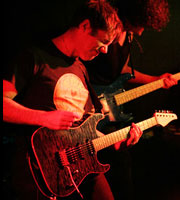 Andy Abberley
Andy "Abbz" Abberley is the newest member and guitarist for British rock group Diamond Head.
In this interview Andy chats with us about how he first got into guitar and music, bands he has performed with early in his music career, getting the gig with Diamond Head, his choice of guitars and amplifiers, his passion for Jazz music, upcoming projects including a solo record in the works and much more.
---
Interview with Diamond Head guitarist Andy "Abbz" Abberley
Interview © 2013 Guitarhoo!
Andy on the web