Stevie Salas
Solo guitarist and artist Stevie, known for his funk rock guitar style, has released over 20 solo records in his career. Stevie has also done session work and has toured with a multitude of artists such as George Clinton, Mick Jagger, Rod Stewart, Bootsy Collins, Was (Not Was), Terrance Trent D'arby, Micheal Hutchance (INXS), Jeff Healey, Sammy Hagar, Steve Vai, Sass Jordan, Justin Timberlake, Bernard Fowler and many many others.
Stevie has a Canadian Music TV Show "Arbor Live" and has also been the Music Director for American Idols Chris Daughtry, Jordan Sparks, David Cook, Adam Lambert, Allison Iraheta, and others.
Stevie, what are your top fave 5 records which have impacted you the most in your life musically or otherwise?
Van Halen by Van Halen
When I heard this record as a kid it sounded like nothing I had ever heard. I was non stop listening to Aerosmith "Rocks" and "Toys in the Attic" plus Ted Nugent and Led Zep but this record stopped me in my tracks! And sure Rick Derringer and a few others were doing hammer on's but I never noticed it until Ed did it… and what was up with that TONE!!! I saw the VH 1 tour with them opening for Black Sabbath and Ed had what looked like 10 Marshall heads on the ground next to him and they just shut Ozzy and the boys down BAD (also VH 2 is killer too).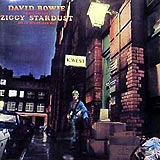 Ziggy Stardust by David Bowie
There is something about the blend of power, tone and taste that Mick Ronson possessed and his use of the Crybaby Wah as a tone machine is a big part of my style. (also listen to Aladan Sane and Pin Ups)
Axis Bold As Love by Jimi Hendrix
This was tough 'cuz Experiance and Band Of Gypsys are insane too with the early funk rock BUT Axis brought the sound and ballad style of Little Wing, Castles Made Of Sand and Bold As Love and it was in your face, strangely beautiful and done without being pussy ballad rock. To this day it is still mind blowing and timeless.
James Brown and the JB's
No one talks about Catfish Collins and the other GREAT guitar players who played with James. The bad ass rhythms on Sex Machine and all the others still sound fresh and for anyone who has tried, it's not easy getting that kind of clean tone in the studio. One that had dimension and clarity along with attack all while being crystal clear. Work on this stuff. It sounds easy but it ain't. One thing for sure, all my favorite lead guitar players have sick rhythm technique. Tell me EVH, Jimmy Page, Joe Perry and Brad Whitford and Jimi Hendrix are not funky… those cats all work the rhythm hand as much as the fretboard hand and when you hear Robert Plant say, "Has anybody seen the bridge?", you can thank James Brown and The JB's for that.
Alive! by Kiss
Ace has simple but hooky solos plus an insane tone and Paul Stanley has the rocking rhythm tone. Let's face it without great rhythm guitar there can be no great lead guitar and to fit it in 3 minute anthems… if it was as easy as they made it sound, we would all be as rich as Gene and Paul.
Thank you Stevie for joining us! High-5!
© 2013 Guitarhoo!
Stevie on the web