Sass Jordan
Juno Award-winning raspy and bluesy rock vocalist and solo artist Sass Jordan is an internationally recognized singer/songwriter who has sold over one million CDs worldwide.
Throughout her career Jordan performed a duet with Joe Cocker for the soundtrack of the motion picture The Bodyguard, has performed with artists such as Stevie Salas, Jeff Healey, The Box, Jude Cole, among others and has also judged for the TV singing competition Canadian Idol.
Sass, what are your top fave 5 records which have impacted you the most in your life musically or otherwise?
Sass: Just a caveat, before we begin… this is one of the more impossible questions, as there are probably at least 100 records that have left an indelible imprint on my life. So instead of saying my Top 5, I would like to say the following 5 records ARE AMONG my top one hundred!!!
Steve McQueen (Four Wheels Good) by Prefab Sprout
This British band from the mid-eighties, led by songwriter and singer Paddy McAloon, made this brilliant record, that I leaned heavily on as I was leading up to the intense whirlwind that characterized my experiences in the 'rock star' machinery. It's almost unclassifiable – the production sounds very 80's – but the songs, the singing and the lyrics .. well, they speak for themselves. The record is soothing and haunting, and the newer acoustic versions that were added recently to the package are outstanding.
Everybody Loves A Happy Ending by Tears For Fears
Yet another British import – the extraordinary talents of the Roland Orzibal and his pal Curt Smith are hard to summarize, but lets just say that once again, songwriting is the key. The production is quite outstanding, too. It builds an auditory castle that wraps you up and isolates you from the big, bad world out there.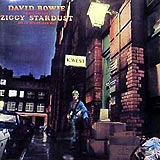 Ziggy Stardust and The Spiders From Mars by David Bowie
Well, this was one of the reasons I wanted to be a rock star. I wanted to be him. He was the architect of my ambition and he was my own personal friend through a lot of hellish times, through his music. I have never actually met him.
I'm Still In Love With You by Al Green
One of the all time greatest ever – I worship Al. He sings with a passion and a joy that is contagious. He doesn't overwhelm you, he dances around the edges, and just when you aren't looking, he stuns you with his mastery.
Oh dear, are we at 5 already? I've only just begun… this is impossible – there are literally hundreds of others BEGGING me to say something… ARRGGGGHHHH !!!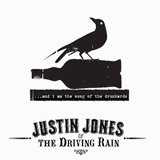 And I Am The Song Of The Drunkard by Justin Jones and The Driving Rain
This guy is from Virginia, I believe, and his voice and songs contain the pain and yearning that each of us carry deep down in our souls somewhere. The feeling of primal separation and loneliness, something that we try to hide from with our drug of choice, be it food, alcohol, sex, drugs or music … Justin Jones and Warren Haynes nail that… and Warren Haynes is another story … oh well, next time I guess!
Thank you Sass for joining us! High-5!
© 2008 Guitarhoo!
Sass on the web