Johannes Linstead
Fusing Spanish-style guitar with Afro-Cuban, Middle Eastern, and Latin American percussion and instrumentation, Johannes's recordings of world music have all charted on Billboard Magazine.
In 2007, Johannes was named "Guitarist of the Year" in the prestigious Canadian Smooth Jazz Awards, and his CD, Cafe Tropical, earned a JUNO nomination for "Best Instrumental Album".
Johannes, what are your top fave 5 records which have impacted you the most in your life musically or otherwise?
Blizzard of Ozz by Ozzy Osbourne
I didn't discover this album until sometime after the death of guitarist Randy Rhoads, whose life came to a tragic end in a plane crash in 1982. When I was a kid, all I listened to was classical music but as I got more and more into guitar, I started diversifying. So I remember one night falling asleep with the radio on. I was sleeping quietly when Crazy Train came on the airwaves. It woke me up from my slumber. My thought was "wow, who's this!". The next day I went out and bought the album, and after the first listening I had a new favorite guitarist. Maybe a few weeks later I found a magazine with Randy on the cover. As I was reading through, I thought something was weird, the writer kept referring to Randy in past tense. Then I realized that he was dead. That hit me like a tonne of bricks and really made me devote my life to guitar. His solos had so much fire and emotion. Even to this day, I have not really heard anyone play quite like him.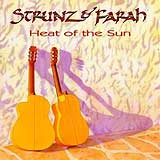 Heat of the Sun by Strunz and Farah
I first heard this album back in 1997 when I was wondering through the aisles of a local CD shop. This album came on and I could do nothing else but listen. I was with my girlfriend at the time and she was bored and wanted to leave, but you could not make me leave while those glorious Latin rhythms and sensual Spanish guitars played in harmony! I bought the album, and it did not leave my stereo for months, even years! They really inspired me to perfect my technique and incorporate fast, harmonized runs into my own compositions.
Flamenco! by Sabicas
Born in Spain in 1912 to a family of Gypsies, Sabicas revolutionized the art of flamenco guitar from being primarily an accompanying instrument to being a solo instrument worthy of its own spotlight. His albums were recorded primarily in the and 60's and 70's and the sound quality isn't that good, but the playing is mind-blowing. It literally seems impossible that one man and one guitar can produce so many sounds. Flamenco has always intrigued me and it is my opinion that it is one of the most difficult styles to play on guitar. There are so many unusual techniques that you do not find in any other style and Sabicas makes it sound effortless.
Friday Night in San Francisco by Paco de Lucia, Al DiMeola, John McLaughlin
This 1978 release features three world-class virtuoso guitarist, each with his own style, coming together and without a backing band. This was probably the first album I had heard where acoustic guitarist were outpacing electric guitarists. The songs were not that memorable in a melodic sense, but the precision of technique was simply outstanding. I don't listen to the album to often, but when I do, needless to say, I get inspired to practice. I certainly would recommend this album to anyone who isn't a guitarist, but for guitarist interested in velocity.
Rossiniana No. 1, Op. 119 by Angel Romero
This was one of the first classical guitar albums I ever owned. I was helping out my old drummer who worked a CD shop and in return he said "go pick a few albums," so I grabbed this cassette. I didn't know who Angel Romero was or what the music would be like, but I chose it anyway. When I put the cassette in my car I was immediately enamored. The music is actually an arrangement of works by Rossini (who is of course famous for his opera The Barber of Seville) by Mauro Giuliani (1781-1829), who took many liberties with his adaptations. On the radio it is rare to hear works for classical guitar, so guitarist often have to take chances to discover more repertoire. After purchasing a few music books for classical guitar it became clear to me that Giuliana was perhaps the best composer for the instrument of the classical period. Angel (a masculine name in Spain) is part of a family of world renown guitarists and the brother of Pepe Romero.
Thank you Johannes for joining us! High-5!
© 2008 Guitarhoo!
Johannes on the web