Eric Martin
Solo artist, formerly lead vocalist of Mr. Big, Eric has over 6 solo records in his growing discography. Eric also joined forces with Gunnar Nelson, Matthew Nelson, Kelly Keagy (Night Ranger) and Mark Slaughter (Slaughter) to perform their music under the name of Scrap Metal.
Eric, what are your top fave 5 records which have impacted you the most in your life musically or otherwise?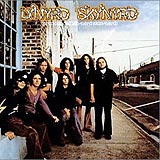 Pronounced Leh-Nerd Skin-Nerd by Lynyrd Skynyrd
What'cha got here folks is a heaping helping of some southern fried rock & Roll. Ronnie Van Zant was one hell of a rockin' blues singer, and the first time I heard this man was in 1973 and he became an instant favorite of mine. A Simple Man is, in my opinion, his greatest lament. I was honored to sing back up on the song "Pure and Simple" on their reunion record in 1991 with Ronnie's brother Johnny. They were awesome live, "Free Bird" sounded just like the record. It was hip to have that 1st album back in the day… the chicks dug it, I would blare it out my bedroom window when the girls on my street came home from school, if I recall some of em' actually stopped by for a spell. Yee-haw!!
White Trash by Edgar Winter
I lived and breathed on this record! A true blue eyed collection of funk, rock, R&B, blues and gospel. Edgar and Jerry Lacroix taught me how to cut loose and not be afraid to mix my shit up. I learned every scat and deafening scream on this masterpiece and danced my ass off to "Save the Planet" and "Keep Playing That Rock and Roll". The emotional song "Dying to Live" got me all choked up, it had me thinking of my father in some fox hole in Vietnam and wondering what he was fighting for; probably to get home.
Hot Rocks-1964-1971 by The Rolling Stones
Hot Rocks was the soundtrack to my life back in the day, every song had a message of sex, love and angst. I grew up on army posts all over the world, changed different schools and never stayed in one place for more than a year or two. It was hard to make friends because you just lost them in an instant anyway. The only thing that kept me from becoming a social outcast was the Stones. I used to dream that I was Mick, stand in front of the mirror and shake my moneymaker. Jagger and the king bee of guitar; Keith Richards fillet my soul and sexed me up enough to get my first kiss and a handful at 14 years olds thanks to the tune "Honky Tonk Women", I was no wallflower. "Street Fighting Man" put a little swagger in my step. "Brown Sugar", "Midnight Rambler" holy hit parade this album had everything, hell… has everything that a mannish boy needs.
Molten Gold: The Anthology by Free
Here's another compilation in my top 5 that kicks out the jams. "Wishing Well", "Heartbreaker", "Fire and Water" and "Ride on Ponya". Good God almighty Paul Rogers is one of the greatest singers of all time!
Performance Rockin' the Fillmore by Humble Pie
Marriot is a great soul belter in my book. I have always been partial to the song "Hallelujah" (I Love Her So), he shines on vinyl. I never saw the Pie live but this record put me in the front row or the back row… Hell… You could hear Steve Marriot's unbridled voice loud and clear even without a microphone. This was one was in my collection, too bad it's all scratched up from carrying it to band practice all those years ago. If I were you and was any sort of a rocker I would truly go with Humble Pie's – Hot & Nasty – the Anthology for a good dose of boogie.
Thank you Eric for joining us! High-5!
© 2008 Guitarhoo!
Eric on the web