Derrick Gottfried
Guitarist for Canadian classic rock band Harlequin, whom have released 8 records in their 25+ year career with many attaining gold and platinum status.
Derrick also works as a writer, and session musician as well as performing with The Ron Paley Orchestra.
Derrick, what are your top fave 5 guitarists/records which have impacted you the most in your life musically or otherwise?
Derrick: My Fave 5? This is a hard task for me to complete because it is soooooo hard to narrow it down to 5. With all the great music by all the great guitarists ( and musicians ) I feel I have to recognize more than 5. I will do my best to narrow the list down, but I may squeeze in a few honorable mentions….
Jimi Hendrix
Jimi Hendrix changed rock and roll guitar playing forever in the same way that The Beatles changed music forever. He is technical and aggressive and even though sometimes he was reckless, everything he did sounded musical. Lets put it to you this way, I named my firstborn after him: Hendrix Gottfried.
Eddie Van Halen of Van Halen
1979 I remember sitting on a dock and my older brother playing Eruption and You Really Got Me, along with the entire Van Halen I album. The biggest impact on me as far as guitar playing.
The Beatles
The most influential band ever, period. Every band you and I listen to has been either directly or indirectly influenced by them.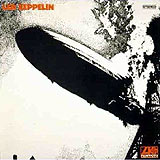 Jimmy Page of Led Zeppelin
You can't possibly narrow it down to just one Led Zeppelin Album. At some point, every Zeppelin album has been a huge influence in my life. Page's approach to big thick guitar chords on a Gibson paved the road for other influencial players like Angus Young, Randy Rhoads, Zakk Wylde, as well as some contemporaries such as Tony Iommi. Page also has a unique approach to acoustic playing and titleernate tunings like Michael Hedges, Leo Kotkey and Don Ross among others.
Surfing with the Alien by Joe Satriani
The year of 2007 saw the 20th anniversary of Joe Satriani's Surfing With the Alien. A good friend of mine, Russ, mixed front of house for Joe over the past year and a half. Over the summer of 07, Joe payed tribute to this album on it's 20th anniversary by performing it cover to cover. I remember Russ calling me and saying," dude, that album is easier to sing than alot of albums with vocals…" This album has such great chordal and melodic components, not to mention technical merit. What 'Surfin' also did for me is it opened me up to all the great instrumental music that came before and after it. Players like Jeff Beck, Steve Vai, Steve Morse, Eric Johnson, Paul Gilbert, I could go on.
Thank you Derrick for joining us! High-5!
© 2008 Guitarhoo!
Derrick on the web