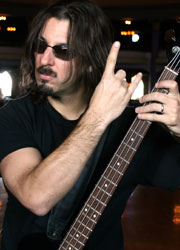 Bryan Beller
A solo artist and session bassist, Bryan is a graduate of Berklee College of Music and has released 3 solo albums and two DVD's.  Aside from his solo work, Bryan is also a member of power trio "The Aristocrats" (with Guthrie Govan on guitars and Marco Minnemann on drums), heavy metal group "Dethklok", Soul/R&B duo with "Kira Small", and has also performed and recorded with Mike Keneally, Steve Vai, Dweezil Zappa, Joe Satriani among many others.
Bryan shares with us his fave 5 albums which have impacted him the most as a musician.
Bryan, what are your top fave 5 records which have impacted you the most in your life musically or otherwise?
Live 2000 by Michael Landau
Of all of the instrumental fusion records I own, I think I've listened to this one the most. I really dig trios, and with Michael Landau on guitar, Jimmy Johnson on bass, and Toss Panos on drums (with whom I used to play in an early version of Mike Keneally and Beer For Dolphins), this is my favorite guitar trio album in the world. Landau's compositions leave a lot of space for the soul and personality of each member to come out, and it's fully rock-based. This isn't jazz/fusion. Jimmy Johnson is a guy who does everything on the bass that I *don't* do; he's a very fluid and smooth player who uses extremely wide intervallic gaps for a unique full-register approach to the instrument. And Toss is just a beast – you can hear each of his three main influences (Jack DeJohnette, Stewart Copeland, and Zigaboo Modeliste from The Meters) adding a rhythmic complement that's totally unique to my ears. Plus, they're just rocking and grooving so insanely hard… I don't know what it is about this record, but it's floored me forever.
The Wall by Pink Floyd
It has the unfair advantage of being the first album I ever owned, but that hasn't made it any less impactful. When I was 9 years old I didn't know what a concept album was, or what progressive rock was, or what the concept of alienation from your audience (and society) was, but I knew the pacing, sound, and overall vibe of this album was something special, and it's stayed with me forever. To be honest I listen more to "Wish You Were Here" and "Animals" lately. But in the back of my mind, even though I write instrumental jazz/rock, I want all of my own albums to feel like this one in terms of sequence, pacing, and just the grandeur and majesty of it all. One specific thing – everyone knows what a great song "Comfortably Numb" is, but one of my favorite parts is the chord changes for the famous David Gilmour outro guitar solo. The word epic is overused these days, but that is a truly epic chord progression – so classic and gothic – that doesn't always get the attention it deserves.
Invitation by Jaco Pastorius
I realize I'm focusing on the most musically (as opposed to personally) impactful albums here – because if I go into how am album has affected me personally I'm going to need to write huge long answers that will quickly bore the reader! – and as a bassist it's somewhat of a cliché to even list it. But there's no denying that when I heard Jaco's live version of "The Chicken" on this release, I just totally freaked out and basically learned the whole thing note for note. Sure, it's a James Jamerson style updated for Jaco's fretless fingerfunk, but that one serves as the foundation for so much of how I want to groove and fill and comp changes as a bassist, it's hard to know where that ends and my own identity begins. And of course I know I'm hardly the only bassist who feels this way, but I'd be less than honest if I didn't include this in any list of "most impactful records" for that one song alone. The rest of the record is pretty awesome too, especially the ten-minute "Reza/Giant Steps" super Latin jazz odyssey that serves as the album's penultimate track.
Bump by John Scofield
Honestly this could have been "A Go Go" or "Uberjam" or "Up All Night" because that whole late '90s/early '00s period when he was doing his backbeat stuff again just totally floored me. John Scofield is probably my favorite *musician* in the world, because he has an instantly recognizable signature sound, he's a fantastic and unpretentious improviser (meaning he could play bop lines all day long but he chooses not to, often going for bluesy melody instead), and he's a great songwriter, just cranking out melody after melody, groove after groove, riff after riff, all of them memorable. In case it wasn't already obvious (which I doubt), a large part of my fusion writing style was heavily influenced by this period of Scofield's work. And when I solo, I really want to sound and feel like him. As for why this record, it's probably the groove of "Three Sisters", the start/stop motion of "Blackout", and the just plain grooviness of "Chichon" and "Fez" and "Swinganova".
TIE: Rage Against The Machine, "Evil Empire" and Nine Inch Nails, "The Fragile"
I just couldn't pick between the two, so I'm picking them both.
Evil Empire by Rage Against The Machine
"Evil Empire" just revolutionized the way I thought a bass overdrive should and could sound. I've been seeking to emulate the bass sound on "Tire Me" since the second I heard it. And even though Rage is one of the most consistent bands in history from album to album, I thought this was really the peak for them. "People Of The Sun" and "Bulls On Parade" as a one-two opening track punch is unassailably awesome.
The Fragile by Nine Inch Nails
Meanwhile, "The Fragile" is Trent Reznor's most progressive album, and even though "The Downward Spiral" is *the* classic Nine Inch Nails album, this is the one that really stuck with me. The way the melodic themes keep interweaving throughout the album – like the way "The Frail" foreshadows "The Fragile", and how "La Mer" twists itself inside out for "Into The Void" – just really got me off. And there's still plenty of pure power, like "We're In This Together" and "No, You Don't" and "Please" and "The Big Come Down". I actually have a very soft spot for the NIN album "With Teeth" in terms of Trent's more traditional songwriting, but if I had to choose one, "The Fragile" is it. It's also not a surprise that Bob Ezrin – who helped produce Pink Floyd's "The Wall" – had a hand in sequencing and final touches on this one as well.
Honorable mention:
Yes: "Relayer"
Jeff Buckley: "Grace"
Self: "Subliminal Plastic Motives"
Led Zeppelin: "Physical Graffiti"
Metallica: "Master Of Puppets"
Thank you Bryan for joining us! High-5!
© 2013 Guitarhoo!
Bryan on the web