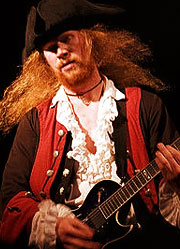 Commodore Redrum
(a.k.a. Justin Greczyn)
Thrash metal guitarist, Commodore Redrum, of the pirate metal band Swashbuckle shares his top favorite albums.
Commodore RedRum, what are your top fave 5 records which have impacted you the most in your life musically or otherwise?
Commodore RedRum: Fuck it, I'm giving you 15, because I don't care about you and your arbitrary numbers. These are in chronological, autobiographical order.
Appetite For Destruction by Guns n' Roses
First music I ever listened to and "connected" with. 'Welcome to the Jungle' quite literally welcomed me to a larger world.
Ride The Lightning by Metallica
First record I bought on my own. For the longest time it was the only metal record I had. Like so many kids, James and Kirk paved the way for me as a guitarist.
No More Tears by Ozzy Osbourne
First record I could listen through and enjoy in its entirety. I can honestly say I love every song on this record. Zakk Wylde was also a really huge early influence.
Whoracle by in Flames
First "extreme" metal record with growling death metal vocals. Redefined what metal music could be in my mind. Also the first "real" band I saw at a live show.
Something Wicked This Way Comes by Iced Earth
First power metal record and first "concept" record. Jon Schaffer's tight percussive guitar playing technique would become exceedingly valuable.
Follow the Reaper by Children of Bodom
First Finnish metal record. Coincidentally, also my first record with gratuitous synth use. That country breeds a different level of musical precision.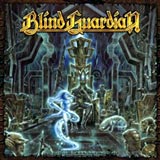 Nightfall In Middle Earth by Blind Guardian
First record that completely and utterly blew me away. It was like discovering sex, or something equivalent. It's a masterpiece.
The Art Of Balance by Shadows Fall
First realization of what poetically driven lyrics could achieve. Brian Fair has a very writerly sensibility about him. His prose is the most fluid I've come across in metal.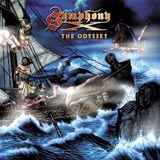 The Odyssey by Symphony X
First "progressive" metal album I got into. I know it walks the line between progressive and power metal, but this band is so forward thinking. The composition is incredible. It takes balls to try and capture in a single record what is arguably the most epic tale in literature. I believe they pulled it off. I'm proud to be from the same Country, State, and County as these fellas.
A Night At The Opera by Blind Guardian
A lot of die hard Blind Guardian fans hate this record. Everyone thinks they peaked at Nightfall. I feel this is their zenith. Many complain that it is over produced and that there is simply too many layers of tracks. Not me. I wish all records had this much shit going on at once. Perhaps it's the grand choirs my mind immerses itself in. Maybe all the guitar melodies. Who knows.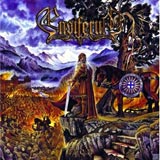 Iron by Ensiferum
I've had the privilege of touring with this band and had the great pleasure of telling them to their faces that, in my HONEST opinion, they have perfected music. What they do is EXACTLY what I want to be listening to.
Slania by Eluveitie
This band proved that you can combine two kick-ass things and create THE ULTIMATE KICK-ASS THING. It's the sort of idea every metal fan subconsciously wanted to do. Combine melodic death metal with celtic folk. The Swiss just got to it first.
A Fever You Can't Sweat Out by Panic! At The Disco
This is the first non-metal album I could listen to in its entirety. The lyricism is top notch, the hooks are catchy as FUCK, and I don't know, something about the whole record seems modern-yet-antiquated.
Riot by Paramore
So the funny thing about this record is, when I put it on, I transform into a screaming 14 year old girl. Isn't that neat?
Most Extreme Ultimate Thunder by Magic Hammer
Eric W. Brown taught me how to have fun.
Thank you Commodore for joining us!
© 2012 Guitarhoo!
Commodore Redrum on the web